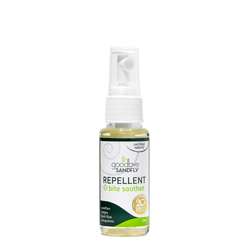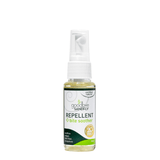 Summary
Want those pesky bugs to stop biting, but don't want to use a repellent that feels or smells bad, or is bad for your skin or health?
Here's a bug repellent you'll love. Feels great. Smells great. 100% natural. 100% good for you and the planet. Great for people those with rosacea or sensitive skin. Suitable adults & children.
Description
The unique combination of oils make this bug repellent both repelling to bugs, and soothing on your skin. NZs best selling natural repellent since 2009 - because it works.
Effective on mosquitoes, sandflies, no-seeums, midges, black flies - and more.
Ingredients
Goodbye SANDFLY is made with expeller pressed Sweet Almond Oil (Prunus Amygdalus Dulcis) with a 2.2% essential oil blend of:
Lavender (lavandula angustifolia)
Eucalyptus (eucalyptus radiata)
Pine (pinus sylvestris)
Manuka (leptospermum scoparium)
Tea Tree (melaleuca alternifolia)*
Lemongrass (cymbopogon flexuous)
* certified organic

Size
Comes in a 50ml pumpspray bottle for easy application.
Suitable For
Pregnancy, breastfeeding, sensitive skin, vegan.