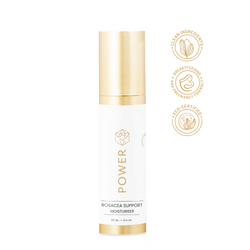 Summary
The perfect moisturiser for rosacea sufferers. Stunning clean natural skin care that hydrates, repairs skin damage, stimulates healthy collagen production without irritating sensitive skin, and provides an essential barrier to protect your skin from the effects of weather, urban pollution and other environmental forces.
A fantastic base for makeup, while also brightening and reducing skin pigmentation. 
Description
The Rosacea Support Moisturiser is a potent blend of anti-oxidants that includes our signature Vitamin C - Tetrahexyldecyl Ascorbate as well as Licorice and Reishi mushroom for brightness, anti-aging and anti-inflammatory.
It also features Ubiquinine (Coenzyme Q10 or CoQ10), and Olive Squalene that are shown to stimulate collagen synthesis, provide photo-protection and reduce skin pigmentation.
You can feel benefits such as positive correction of damage to the skin while stimulating healthy collagen production without irritating sensitive rosacea skin. The extracts and squalene used in this formula provide hydration and promote wound healing to the often irritated and compromised skin barrier of rosacea skin.
If you would like to read more about the best ways to address rosacea from the source, read our Complete Guide to Rosacea. 
How To Use
Apply a thin layer of the Rosacea Support Moisturiser in the morning after applying your chosen serum (Power Super Serum). This light textured cream is suitable to protect from UV damage with light sun exposure, and for Winter. Equivalent to SPF15.
For extended sun exposure please apply your favourite natural sunscreen over the top.
Power Rosacea Support Moisturise comes in a 50ml airless pump bottle to keep it in great condition for 18 months once opened and should last you approximately 3 months with average use.
Ingredients
Aqua; Brassica Campestris Seed Oil; Curcuma Longa Root Oil; Manuka Mel; Argania spinosa kernel oil; Glycyrrhiza glabra root extract; Algae extract [New Zealand native Red seaweed] (and) Cyathea medullaris extract [New Zealand native Black fern] (and) Camellia Sinensis [New Zealand grown certified organic green tea] (and) Ribes nigrum [New Zealand grown certified organic Blackcurrant] (and) Gluconolactone & Sodium Benzoate & Calcium Gluconate (and) Potassium Sorbate; Cetearyl Glucoside (and) Cetearyl Alcohol; Hyaluronic acid; Glycerin; Gluconolactone (and) Sodium Benzoate; Kunzea ericoides leaf oil; Dehydroxanthan Gum; Matricaria recutita (German chamomile oil); Curcuma Longa Root Oil; Pelargonium graveolens Flower Oil; Lavandula angustifolia (Lavender) Flower Oil; Santalum Austrocaledonicum Wood Oil.
Who Is It Suitable For?
The Rosacea Support Moisturiser is especially suitable for rosacea sufferers of all ages and stages, both men and women. Pregnancy and breast feeding friendly, but not vegan friendly.
Perfect With
The Rosacea Support Moisturiser is the perfect addition to the Rosacea Power Pack.