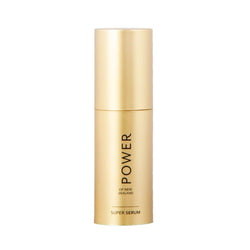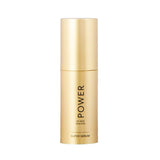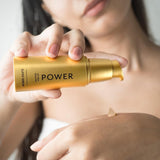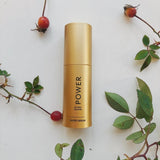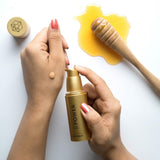 Summary
Power of New Zealand Bee Venom Super Serum is an energised concentrated bee venom serum which stimulates repair, boosts hydration, brightens, tightens and smoothes your skin. It acts as a powerful super food providing deep nourishment and hydration, stimulating your natural ability to produce collagen and healthy new skin cells.
This serum superpower has been scientifically formulated using 100% natural ingredients to effectively combat the effects of urban pollution, EMFs, aging, and modern day skin conditions - while being incredibly soothing and gentle on your skin.
Use For
Ideal for restoring sun damaged skin, anti-aging, rosacea, acne, hormonal acne, dark spots & skin pigmentation.
Ingredients
Power of New Zealand Super Serum includes
Bee Venom - One of our heroes which stimulates collagen production and smoothes wrinkles. 8 times more concentrated and potent than other bee venom serums.
Manuka Honey - Provides amazing nutrition, hydration and stimulates cell activity.
Kawakawa Extract - Anti-inflammatory and calming
Mango Seed Butter - Is a great source of vitamin A and C that gives a plumper, tighter look, and calms irritation.
Vinanza Extract (Kiwi and Grape) - Combined and specially extracted they reduce dehydration and improve skin luminosity. Reduces redness and pigmentation for even skin tone.
Yuzu Oil - Brightens and tones the skin preventing wrinkles.
Coconut Extracts - Cetearyl Glucoside and Cetearyl Alcohol - moisturising, nourishing and protective.
Jojoba Seed Oil - Full of nutrients like Vitamin E and B, as well as anti-oxidants and minerals like chromium, copper and zinc, which all nourish and protect skin.
Plant Derived Glycerine - Hydrates and protects the skin.
Avocado Oil - The beta carotene, protein, lecithin, fatty acids, and vitamins A, D and E found in avocado oil help moisturise and protect your skin from damaging UV rays and also increase collagen metabolism.
Water - Binds with the ingredient HLA to deeply hydrate and protect the skin.
Taumanu Oil - Amazing for reducing scarring, it's anti-oxidant, anti-aging and anti-inflammatory.
Sodium Hyaluronate - (Hyaluronic acid plant based) low and high molecular weight - smooths wrinkles, boosts elasticity and deep hydration.
Deydroacetic Acid & Benzyl Alcohol - Balances bacteria, yeasts and fungus.
Chia Seed Oil - Maintains healthy skin cell membranes and wards off the harmful effects of free radicals.
Dehydroxanthan Gum - Hydrates and protects the moisture layers of your skin.
Aqua; Salvia Hispanica (Chia) Oil; Mangifera Indica (Mango) Seed Butter; Cetearyl Glucoside & Cetearyl Alcohol; Simmondsia Chinensis (Jojoba) Seed Oil; glycerin (plant derived), Vitis vinifera and Actinidia deliciosa; Persea Gratissima (Avocado) Oil; Dehydroxanthan Gum; Sodium hyaluronate (hyaluronic acid plant based), Deydroacetic acid & benzyl alcohol, Calophyllum Tacamahaca Seed Oil, Macropiper excelsum extract; Citrus Junos (Yuzu) Oil, Kunzea ambigua, Leptospermum Scoparium Mel - Manuka Honey, potassium sorbate, bee venom. 
What's Not In It?
The Power Super Serum is  100% natural and free from -
paraben
petrolatum
silicon
sulfates
BHA and DEA 
Directions For Use
Use each day under your day cream, and each evening as the basis for skin protection and constant repair, building radiance and luminosity. Gentle and safe to use around the eye area. It also acts as a toner for your skin, so you don't need a toner after cleansing.
Please patch test prior to first use. The Power Super Serum is an "active" skincare product meaning it is designed to create an action in your skin. It is usual to feel a warm tingling sensation after use.
Power Super Serum comes in a 30ml airless pump bottle to keep it in great condition for 18 months once opened and should last you approximately 2 months with average use.
Allergies and Reactions
It is not usual to experience an allergic reaction to this skin care but it can happen. We have many customers who are allergic to bee products and stings who use this product without any issues.
Please patch test first. If your skin becomes red, swollen or hot please contact us before using on your face - potentnature@powerskinsolutions.com. 
Guarantees
If your product does not arrive in good condition we will refund in full.
If you react to the skincare even after contacting us for help on potentnature@powerskinsolutions.com we will refund your purchase in full.