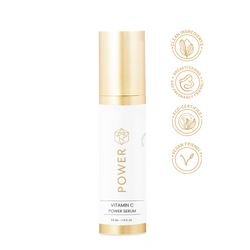 Description
The Vitamin C Power serum is a true superhero among Vitamin C Serums. An incredible 15% Vitamin C, it combines the most effective concentration of vitamin C with collagen promoting ingredients to tighten, brighten, and smooth skin - while it evens skin tone, fades age spots, reduces pigmentation. Works beautifully to decrease pore size and heal scars.
Suitable for aging skin, hyperpigmentation, and under-eye wrinkles. This silky rich luxurious serum combines HLA and humectants that work brilliantly for normal to oily skin types.
The Vitamin C Power serum contains potent active ingredients which may not be suitable for people with rosacea and sensitive skin types.
Avoid use around the eyes or on any open blemishes or pustules.
Ingredients
Olive squalane; Vitamin C - Sodium Ascorbate; Vitamin C - Calcium Ascorbate; Vitamin C oil soluble Ascorbyl palmitate; Olive Cetearyl glucaside & sorbitan olivate; Glycrrhiza glabra (Licorice root extract); Vitamin B3 Niacinamide; Hyaluronic acid;; Vitamin E; Benzyl alcohol & dehydracetic acid; Lactic acid; Potassium sorbate   

What's Not In The Vitamin C Power Serum?
All Power products are 100% natural and free from nasties such as parabens, fragrance, synthetic colorants, petrochemical ingredients alcohol, sulfates.
Directions For Use

Use on freshly cleansed skin as a night treatment, or under your day cream, or combine with Power Super Serum to use as a day cream.
Suitable For
The Vitamin C Power Serum is suitable for normal and oily skin types and is safe to use during pregnancy and breastfeeding.
Size

This is a very generous 50ml serum which means it's great for the neck and décolletage as well. Used daily as recommended it's likely that the Vitamin C Power Serum will last approximately 3 months.
How Quickly Does It Work?
Expect to see and feel a difference within a few weeks. Some people report noticeable improvements within just 2-3 days.
Works Brilliantly With
Mixing a few drops of the Vitamin C Power Serum with the Power Super Serum makes for a great base under makeup, or as a moisturiser.