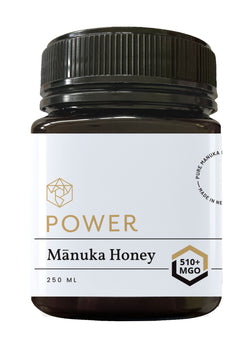 Description
Manuka Honey 510+ MGO is a natural source of anti-microbials which makes it perfect for use as a face mask, and a delightfully tasty way to impact rosacea.
How To Use
Face Mask - Warm a small amount of honey by placing it on a spoon in glass. Immerse the glass with the spoon of honey in warm water until the honey becomes a little runny. Apply to skin. Leave to dry for approximately 30 minutes and rinse off with tepid water.
Rosacea - take 1 teaspoon of honey daily on an empty stomach to treat H.Pylori bacteria which is frequently associated with the presence of rosacea.
Ingredients
Manuka Honey - 250 grams
The Story
Kai Ora 510+ MGO Manuka Honey is uniquely harvested from the Far North's native and wild bush belonging to the sacred ground of our Maori people of New Zealand. This area produces the highest quality and limited quantity of Manuka Honey in which all our honey is proudly harvested from.
Our honey is traceable from the hive through to your hands maintaining our Maori dignity of providing authentic Manuka honey setting it apart from other honey producers.
Beekeepers - B & T Murray
Caution
Not suitable for infants under one year old. Not suitable for vegan. Is suitable for breastfeeding and pregnancy,
Storage
Store below 20 degrees celsius. Keep at room temperature to soften.