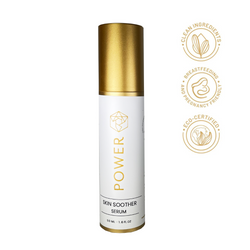 Description
Soothe, calm and cool hot, inflamed, irritated or red skin with this incredible skin soother. It weaves it's magic bringing relief, restoring balance, healing, and rejuvenating tired or damaged skin. 
Suitable for acne, eczema, rosacea, and sensitive skin of any kind.
How Does It Work?
Our modern world, pollution and hormones can all result in our skin heating, feeling inflamed, and red. This can be part of hormonal acne and the beginnings of rosacea, or just the way our body cools down, so it's important to address before the condition worsens.
The Skin Soother reduces infection and inflammation, while also promoting collagen and healing, which assists in the prevention and healing of scars. 
Who Is The Skin Soother For?

The Skin Soother is breast feeding friendly, but is not suitable for vegans due to the inclusion of Manuka Honey in the ingredient list. If your skin is sensitive, hot or inflamed - this product is perfect for you.
Ingredients
The Skin Soother is a high potency 100% natural serum. No petrolatums, alcohol, parabens or other nasties. Eco friendly and cruelty free.
Ingredients: Aqua; Oenothera Biennis (Evening Primrose) Oil; Baobab oil - Adansonia Digitata Seed Oil ;Manuka Mel; Argan oil - Argania spinosa kernel oil; Tamanu oil - Callophyllum inophyllum; Kawakawa - Macropiper excelsum; Cetearyl Glucoside (and) Cetearyl Alcohol; Hyaluronic acid; Glycerin; Gluconolactone (and) Sodium Benzoate; Kunzea ericoides leaf oil; Dehydroxanthan Gum; Matricaria recutita (German chamomile oil); Potassium sorbate.
Kunzea Oil – anti-inflammatory, soothing, reduces itch, promotes healing.
German Chamomile - This beneficial essential oil penetrates deep into the layers of your skin where its potent anti-inflammatory action can restore and soothe irritated skin. Its oil delivers many protective effects to the skin, and its anti-inflammatory abilities make it a soothing and calming agent for many conditions that irritate the skin.
Kakadu Plum Extract – Anti-inflammatory: Thanks to their high antioxidant levels, Kakadu plums are the natural enemy of redness and inflammation. This makes Kakadu ideal for sensitive skin types, especially those with inflammatory conditions like acne or eczema. Immune-boosting: Vitamin C is fantastic for your immune system, skin included.
Oil Soluble Vitamin C - Tetrahexyldecyl ascorbate (the most stable vitamin C) – reduces infection, promotes collagen and healing.
Sea Buckthorn Oil - skin hydration, elasticity, cell regeneration, anti-inflammatory reduce redness associated with rosacea.
Avocado Oil – high in Vitamin E, potassium, lecithin and oleic acid that promotes collagen production in skin, protects against sun damage, moisturising, protective. 
Xanthan Gum – soothing gel that absorbs readily.
Hyaluronic Acid – low molecular, to keep cells hydrated and healthy, also anti-aging.
Manuka Honey – reduces scarring, heals scarring, antimicrobial, protective.
Water - hydrating balancing
Potassium Sorbate - gentle preserving. Ecocertified. 
Directions For Use
Apply a few drops to the skin whenever it is feeling hot, inflamed or red.
You can combine with the Skin Soother with the Vitamin C Power Serum or the Manuka and Reishi Night Oil to create a moisturiser for under makeup or sunscreen, or use the serum at night as a night treatment.
We recommend that if you're living in an urban space that you wash your face when you get home with either natural yoghurt or our Gentle Cleansing Oil, and apply some of the Skin Soother.
Your skin will respond immediately, and feel cooler and soothed. 
Works Brilliantly With
Vitamin C Power Serum
Manuka & Reishi Night Oil
Gentle Cleansing Oil