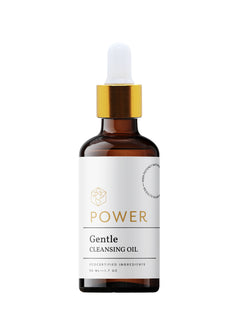 Description
A stunning organic cleansing oil designed to sooth, calm and deeply cleanse even the most stubborn makeup; without stripping the skin of its vital and natural pH balance.
Sooth the skin and the soul, especially when you cleanse at night. No greasy residue.
Organic certified oils - Sunflower, kumerahou, sesame, camellia, grape, cococaprylate and lavender. 

How It Works
The organic oils bind together with makeup and debris on the skin drawing out impurities, leaving your skin silky smooth and supple with no greasy residue. 
Washes away excess debris, sebum and blackheads from pores, and clears your skin of the harmful effects of pollution and EMFs. 
Suitable For
Suitable for all skin types and skin conditions - including oily skin, dry skin, sensitive skin, acne and rosacea. This cleansing oil is designed to leave your skin with the perfect balance of water and oil, regardless of the current condition of your skin.
Ingredients

Organic Camellia oil is particularly high in oleic acid and exceeds the level of olive oil. Camellia oil contains vitamins, A, B, and E and various minerals and has an active constituent known as squalene, which is an important component of the skin's natural emollient system and to prevent wrinkles and sagging. Used regularly, it will help protect from age spots and increased pigmentation. Used around the eyes and mouth, it softens wrinkles and tiny maturity line
Organic Kumerahou extract a native New Zealand extract, called gum diggers soap, kumerahou has been used for thousands of years for deeply cleansing.
Organic Sesame oil is an Ayurveda oil for cleansing and balancing the skin. Sesame oil contains lecithin, proteins, vitamins A, D & E, which are vital for healthy skins.
Organic sunflower oil is a very low comedogenic rating sunflower oil which means ir is non-irritating, highly absorbent, won't clog pores and is typically suitable for most skin types.
Sunflower oil is rich in vitamins A, C, D and E which act as antioxidants, helping regenerate damaged skin cells and eliminate acne causing bacteria. Vitamin E can also help protect skin from free radicals and from adverse effects of the sun, such as premature ageing and wrinkles. Also helping to trap moisture inside skin cells, improving skin hydration and maintaining the integrity of the skin's outer layer.The omega 6 (linoleic) fatty acid in sunflower oil helps to maintain the skin's natural barrier, supporting its ability to retain moisture. It can also help reduce skin inflammation and enhance the development of new skin cells. It is deeply nourishing and conditioning for the skin.
Organic grape seed oil is a polyunsaturated oil rich in linoleic acid. It is obtained from the seeds of the grapes which contain around 12% of a drying oil which has excellent spreadability on the skin and penetrates quickly, leaving no oily residue.

It contains the highest amounts of linoleic acid among any oil or food source. Linoleic acid is an essential fatty acid which means we must consume it in our diet as our bodies don't produce it. It is necessary for many functions that maintain normal cell growth throughout our body.
Cococaprylate is a natural emollient and silicone alternative. It helps to moisturise and is responsible for the silky touch skin feeling, and is claimed to reduce fine lines and wrinkles.
Organic Lavender has cytophylactic properties which promote rapid healing and help to reduce scarring. It's calming on the senses, and on the skin cells, it's also helps prevent infection.
What's Not In It 
Most cleansing oils available today contain silicones and synthetic perfumes, and leave residual parts of chemicals in the product. The Power Gentle Cleansing Oil has zero nasties, and is cruelty free. 100% natural. 100% organic. 
Directions For Use

Apply about 10 drops to your hands, or directly on your face and massage with gentle circular motions. Rinse well by splashing water on face, or in shower. You may choose to remove with a cleansing sponge or wet cotton pads.

To remove heavy makeup, you may need to repeat.
Size
The Power Gentle Cleansing Oil is brought to you in a 50 ml amber glass dropper bottle, which will last approximately 2 months with average use.
Not Suitable For
This product suitable is suitable for any skin type and any skin condition.