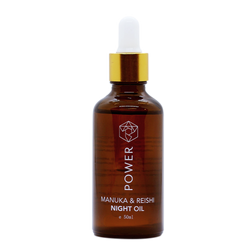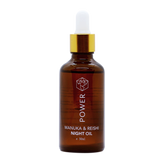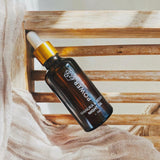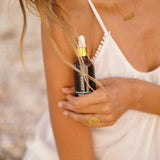 Description
A stunning and relaxing non-greasy night oil renowned for it's regenerative qualities.  It restores the natural and healthy pH balance in your skin, and won't clog pores.
Power of New Zealand Manuka & Reishi Night Oil is a beautiful blend to create smoother, younger looking, even-toned skin, with a lovely luminosity. It works while you sleep, so relax and enjoy - face the day feeling empowered.
The Amazing Properties
Reishi mushrooms are renown for their rejuvenation properties promoting skin suppleness, agility and strength. New Zealand manuka honey provides amazing nutrition, hydration, and stimulates cell activity and healing.
Together they have super- power qualities for your skin, and we've combined them other high potency 100% natural ingredients such as jojoba, chia seed, rosehip, licorice extract glabradin, rose otto, yuzu and ylang ylang to help create younger more vital skin.
Ingredients
Manuka oil from New Zealand - proven antimicrobial and anti-bacterial qualities. Provides amazing nutrition, hydration and stimulates cell activity.
Reishi Mushroom extract - Reishi is a herbal mushroom known to have miraculous medicinal properties and health benefits. Legends about this mushroom's rejuvenating qualities are widespread. Known to enhance agility, suppleness, and strength
Rosehip oil - strengthens the cells against water loss, it is a proven anti-ager, a great source of Vitamin A, which helps in evening out skin tone and fading dark spots while reducing the appearance of wrinkles. It also helps smooth out a dry, rough complexion.
Jojoba oil -  full of nutrients like Vitamin E and B, as well as antioxidants and minerals like chromium, copper, and zinc, which all nourish and protect skin.
Chia seed oil - maintains healthy skin cell membranes and wards off the harmful effects of free radicals.  
Kunzea oil - strongly anti-inflammatory, calms the skin and reduces stress. 
Kawakawa extract - native to NZ, anti-inflammatory and calming.
Coco- caprylate - natural emollient, moisturises and reduces wrinkles.
Licorice extract - soothing and great for reducing the appearance post inflammatory hyper-pigmentation
Rose Otto - is a powerful antioxidant, which helps fight free radicals and reduce signs of aging such as fine lines and wrinkles. These antioxidants also help to protect the skin from UV damage. This oil also helps to regulate moisture levels in the skin, which keeps the skin plump, hydrated and healthy
Yuzu - brightens and tones the skin preventing wrinkles.
Cedarwood - has anti-inflammatory and antimicrobial properties and smells great.
Mandarin essential oil - Promotes cellular growth, has a high content of vitamins, nutrients and antioxidants. From soothing damaged skin to reviving your complexion, gives your epidermis a boost.
Frankincense - helps protect skin cells. It can be used to help reduce acne blemishes, the appearance of large pores, prevent wrinkles, and it even helps lift and tighten skin to naturally slow signs of aging.
Lavender - to help reduce redness, blotchy patches, and acne scarring. Lavender oil's anti-inflammatory properties make it great for soothing and healing skin that's irritated. Calming for sleep.
Ylang Ylang -  to balance and regulate oil production in the skin, while also soothing inflammation and irritation.  Calming for sleep.
Full Ingredient List: Rosehip oil rosa Canina seed oil; Jojoba oil - Simmondsia Chinensis oil; Chia seed oil - Salvia Hispanica; Kunzea - Kunzea Ambigua; Kawakawa extract - Macropiper excelsum; Coco-caprylate; Licorice extract -  Glycyrrhiza Lucidum; Essential oils - Rosa Otto - Rosa damascena; Yuzu - Citrus junos; Cedarwood - Juniperus virginiana; Mandarin - Citrus nobilis; Frankincense - Boswellia carterii, Lavender - Lavandula Angustifolia, Ylangylang - Cananga odorata. 
How To Use Power Manuka & Reishi Night Oil  
If your skin often feels dry and you see signs of aging use a few drops of the Manuka and Reishi Oil and gently massage into your clean face each evening. It'll also feel fabulous if every second night you mix it with a few drops of the Super Serum.  
If your skin is prone to hormonal acne or urban pollution we recommend only using the Manuka and Reishi Night Oil every second night mixed with Super Serum. Every other night - please use the Super Mask instead which will assist to remove toxins and exfoliate gently.
If you have oily and troubled skin with a tendency for pimples please use the Super Mask nightly, and only use the Manuka and Reishi Night Oil when your skin feels a bit drier, adding one drop of the Super Mask to the Night Oil before applying.
Size
The Power Manuka & Reishi Night Oil is brought to you in a 50 ml amber glass dropper bottle, which will last approximately 3 months with average use.